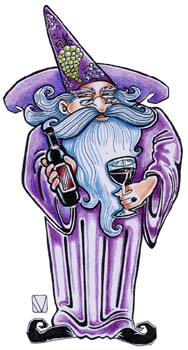 Dear Wine Wizard:
I was thinking of adding oak chips in cheesecloth to a gallon carboy of red Zinfandel for one month; any experience with this?
Pierre Desocio
Syracuse, New York
Wine Wizard answers: I firmly believe that — much like Sauternes and foie gras, Port and blue cheese — oak chips and cheese cloth were always destined for each other. Many winemakers, from purveyors of thousand-gallon commercial lots to 10-liter demijohnners, take advantage of homemade oak chip "tea bags."
I've been advocating their use for years as they make the winemaking process easy in so many different ways. The only trick is to find a way to get that package of cheesecloth-enrobed chips into your carboy, which likely has a small neck. If you've got a needle, thread and some scissors, however, you can easily sew yourself some long, narrow cheesecloth "socks" that will fit the bill nicely. Try cutting out a few layers of cheesecloth into strips measuring 12" (30 cm) by 4" (10 cm). Fold lengthwise, sew up one of the shorter ends, then sew up the open long side once you've laid a good layer of chips down the middle of this cheesecloth "burrito."
The resulting long, narrow cheesecloth tube should be able to fit down into the mouth of your carboy, depending on how narrow the neck is. Tie the open end off with some thread and leave it hanging out over the edge of your carboy before you bung it up tight. Hey presto! You've got oak chips that are easy to remove and re-use if you so desire!
To read more of the Wine Wizard's wisdom, pick up the latest issue of WineMaker, now available at better home winemaking supply retailers and newsstand locations.