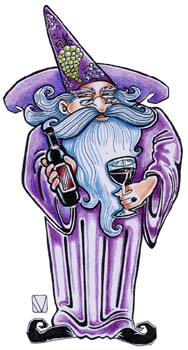 Dear Wine Wizard,
I came back from Australia six months ago and was fortunate enough to visit the Hunter Valley. I brought back some wine and among the bottles was a Chardonnay/Verdelho blend that I had sampled and enjoyed. I opened it the other day and was again amazed at how good it was. Well, to make a long story short, I have now got it into my head that I want to make this blend for my next year's white wine. The problem I seem to be having is that the Verdelho grape appears to be grown only in Portugal and Australia, instead of in Washington state where I am located. I am just stumped as to where to go next as to inquire if anyone in the nearby vineyards (in either Oregon or anywhere in Washington) grows this varietal. I'm willing to do quite a bit of work and pay handsomely to begin to get the grapes, I just don't know where to get the contact information that I need.
Jonna Reed
Kirkland, Washington
Wine Wizard Replies: Congratulations on falling in love with a new grape varietal! I would think that someone in your great state would be experimenting with Verdelho, perhaps best known, as you mention, in Australia and Portugal. It's very famous on the island of Madeira (off the shore of Portugal), where its green, oblong and characteristically hard berries are much-used in fortified winemaking. The Verdelho wines of Australia, on the other hand, are often made into crisp table wines.
So where, oh where, to lay your hands on some Verdelho here in the United States? I think you're on the right track with checking out nearby vineyards and getting in touch with vintners in Washington and Oregon. Below are some suggestions that ought to help. Do be aware that as many of these contacts are in the commercial grape industry (and as such are used to dealing in volumes of 10 tons or more), you may have a tough time finding someone willing to take you seriously on a home winemaker's scale. Hopefully you'll find a small vineyard owner or grower in your area that can help you out! Best of luck!
Contact a local trade association or Winery/Grower group to see if they know of anyone that might have Verdelho for sale:
Enology Society of the Pacific Northwest/Seattle Wine Society
Washington Association of Wine Grape Growers
Northwest Berry and Grape Information Network
Washington State Grape Society
Washington Wine Commission
Yakima Valley Winery Association
Also, local farm advisors or university extension professionals will have leads:
Washington State University Viticulture Extension
Oregon State Viticultural Extension