Whole cluster pressing (foregoing the step of crushing and destemming the grapes) is most often done to make high-end white wines. The technique creates a more delicate and less astringent wine by reducing the contact time with the stems and skins.
Jason Burrus is the Winemaker for Chrysalis Vineyards in Middleburg, Virginia. He has a master's degree in viticulture and enology from UC-Davis and 15 years of winemaking experience. Prior to moving to the East Coast, Jason spent six years working for wineries in California and three in Europe.
We whole cluster press all of our white grape varieties: Albariño, Vidal Blanc, Viognier, and Traminette. We also whole cluster press our rosés (one is a Norton and another is made from Tannat, Petit Verdot, and Nebbiolo).
Sarah's Patio Red is made from 100% Norton in the rosé style. It's meant to be a fruity wine with some natural effervescence and no oak contact. Because it's not meant to be an extracted red wine, we whole cluster press it to accentuate its lighter and crisp qualities. Even so, Norton has so much color, it's as dark as any red wine.
Theoretically, whole cluster pressing deemphasizes the character that's extracted from the skins — tannic and bitter qualities that aren't valued in white wines. But I also do it from a logistical perspective. If maximum throughput of your press isn't critical, whole cluster pressing is efficient in that you don't have to set up, operate, disassemble, and sanitize your destemmer/crusher. And if you're concerned about juice yield, the stems act as a pressing aid.
As with any pressing operation, but especially with grapes, be careful not to press too hard at the beginning. You always get better yields from pressing and tumbling many times at light pressures, then slowly increasing from there.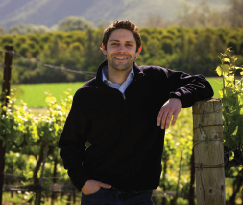 Scott Sisemore is the proprietor and winemaker at Waxwing Wine Cellars in San Carlos, California, where he uses traditional methods to craft limited-production wines.
I whole cluster press almost all my grapes, including Pinot Noir, Syrah and Riesling. I'm interested in the simplicity of the process and cutting out unnecessary production steps. I also think stem inclusion with red fermentations helps to add layers of complexity. I'm not trying to squeeze every last drop out of the grapes and pomace, and I don't believe the affect whole cluster pressing has on yields is enough to worry about. For whites and rosés I do recommend partially loading the press with whole clusters and then getting in with bare feet and gently popping all the berries. Get out, rinse the feet, and repeat. Yields will be better (and it feels really good).
I whole cluster press because of the ease of process, the simplicity, it gives nice clean juice, it's fun, and it's gentle. Another big benefit: You don't need to clean the destemmer! Whole cluster saves time and water. Whenever you can make wine without another machine you should do it. I value the press way more than the crusher/destemmer.
The biggest disincentive may be that the pomace isn't as cool looking after a red ferment. It looks untidy with all the unruly stems included. Red punch downs are harder at first too because the stems help form a mat and the cap is harder to break apart and push into the fermenting juice. I use a bare hand at this point. It works better at breaking up the intertwined stems than a punch down tool.
The quality difference you are going to get from whole cluster vs. crush/ destem isn't that significant in my opinion, especially on the home winemaker scale. The two things that are very important for home winemaking: Get good fruit and keep oxygen away from the finished wine (top up barrels, all break down containers and use lots of inert gas when bottling). If you don't follow these steps all the other stuff (choice of yeast, commercial yeast vs. native, sorting, destem vs. whole cluster) doesn't add up to that much.
Eric Johnson is the Winemaker at Talley Vineyards in Arroyo Grande, California. Eric is a graduate of Cal Poly San Luis Obispo, where he studied wine and viticulture and agricultural business management. He joined Talley in 2007. He has traveled to France, Italy, New Zealand, Argentina and Chile to explore wine grape regions or work harvests.
Here at Talley Vineyards, we whole cluster press all of our white varietals. These varietals include Chardonnay, Sauvignon Blanc and Riesling. If we are making a rosé from a darker red varietal such as Syrah, we would be inclined to whole cluster press it as well.
Color is a big factor when whole cluster pressing reds for rosé. I prefer a salmon or peachy color rosé so I pay attention to color the entire time. If we are making a Pinot Noir rosé I may decide to destem the grapes before I press in order to achieve the color I am looking for.
The reason I whole cluster press is because I don't want to break up the grape and start extracting from the skin. I want the juice to leave the grape immediately with little to no skin or stem contact. For me, the main benefit to whole cluster pressing is limiting the amount of phenols that occur from skin contact prior to pressing. Extracting too much can leave a white wine coarse and harsh in some ways.
I don't think there are many disincentives to whole cluster pressing your grapes. You're not going to be able to load as much fruit in the press with this method, but that's not that big of a deal, especially for the home winemaker. I also think for us it is less time-consuming than the drawn out process of desteming the grapes before you load the press.
For the home winemaker, I would say watch the volume of whole cluster grapes you load in a press. If you load the press too full you may not be able to achieve the juice yield that you are looking for. Other than that, I don't have any other warnings. Whole cluster pressing is my preferred means of pressing white grapes.