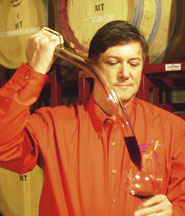 Ken Korando came to winemaking by way of entrepreneurship. Educated as an electronics engineer, he and a colleague patented technology used to decline balance debit cards – the sort of technology that allows you to use your debit card to pay for a soda in a vending machine or a coffee in a drive-through. He and his wife Ann bought a home and acreage in southern Maryland near Solomons Island in 1998 where Ken started making wine. After September 11, 2001, like many people, he decided to make a lifestyle change and Solomons Island Winery was licensed in 2004. Ken has taken distance-learning classes from UC-Davis in winemaking and served this past year as the Eastern Section Representative for the American Society for Enology and Viticulture-ES.
We currently produce four fruit/grape blends for our series called Solomons Island Mist. We tried around nine combinations before deciding on the initial blends: Black Raspberry Merlot, Exotic Fruits White Zinfandel, Green Apple Riesling and Mango Symphony. I would say these blends work best for us because of the flavor profiles they produce, although we plan to introduce three more combinations this year.
The attractive part of blending grape wine with fruit wine is a combination of things. Many consumers like a lighter, sweeter wine, and I think these combinations give them a break from the traditional single variety vinifera wines. They are lower in alcohol, which is certainly going in the opposite direction from other wines being produced with increasing alcohol content. These blends also give us a category of sweeter wines to add to our list of unique products that are different from just sweet Riesling, for example.
I find when I'm making these blends that the fruit flavor typically becomes dominant in fruit and grape blends, which can complement the grape component and even sometimes change the wine in ways I didn't expect. For instance, when we made the base Symphony wine it tasted as we expected, but once we added the Mango, a coconut flavor appeared that we hadn't envisioned.
Although wines are often blended to improve characteristics, I feel that if a grape wine has a real significant defect then blending it with a fruit wine may just intensify a problem as opposed to disguising or fixing it. If a wine is oxidized, for example, then we would probably not go forward with it. That said, if a grape wine is simply lacking in structure or flavor profile then it may in fact be suitable for blending.
There are other differences I've come across, aside from the fruit flavors winning out, when making these types of wines. In blending grape wines like we do with our Bordeaux-style whites and reds, it's degrees of subtlety. Fruit and grape blends are much bolder. In a grape wine blend we may blend as many as four or five wines. With fruit and grape blends we usually deal with two or sometimes three.
The hardest part is trying to keep the character of the grape wine intact when you add the fruit. The fruit is of course going to need both sugar and acid, and the key is not to end up with an oversweet, syrupy mess. The base grape wine can be fairly bold in terms of acid, and gets softened greatly with the fruit – as long as it's not a tart fruit.
As for aging, it's funny, perhaps, but I never think of the ageability of our fruit and grape wines. I expect they're going to be consumed within the first year, however we now have a few that are three to four years old and are holding up nicely. I believe that using a sufficient amount of potassium metabisulfite is critical.
If you want to try making fruit and grape wine blends, and you've been making grape wines, start experimenting with making fruit wines and become comfortable with it. The process is significantly different, and mastering fruit wines alone is key. Then once you can make both types of wines, the blending will be the fun part.
California winemaker Paul Santoriello moved to the Midwest more than three years ago for, "a chance to do something different with fruit wines" at the Door Peninsula Winery in Sturgeon Bay, Wisconsin. Originally from Santa Cruz, and educated in plant biology and viticulture at UC-Davis, Paul has worked for the David Bruce Winery in Los Gatos, E. & J. Gallo in Modesto and The Wine Lab in Napa.
The best matches for fruit and grape wines are those that naturally complement each other. For example, Merlot has natural blackberry notes, so blending Merlot with blackberry wine is a great pairing. I also like to blend Cabernet Sauvignon with cherry, and Seyval Blanc with apple. If you're searching for a good combination, my advice is to taste for fruit nuances in a grape wine and find a fruit wine that can bring out those characteristics.
Blending grape wines with fruit wines raises some unique concerns, especially when it comes to blending. Winemakers typically blend wines because they have two or more wines that are ordinary that they want to spice up somehow. For instance, if you have a wine that is too high in acid you can blend it with a low acid wine. When you blend with a fruit wine, however, you need to keep in mind that you can't adjust it for blending like you can for a grape wine.
If you were to blend Merlot with blackberry wine, you might assume that the blackberry is completely dry – but it isn't. You will always have residual sugars in fruit wines, which is important to keep in mind when you blend with a grape wine. The sugar from the fruit wine can act as a new food to the grape wine yeast, which will then cause the blend to ferment in the bottle. You can avoid this by sterile filtering after you blend, or adding potassium sorbate to keep the SO2 levels up.
Take everything in steps – primary fermentation, settling, fining, blending, cold stabilization and then bottling. You shouldn't use any oak with fruit wine/grape wine blends because although oak adds complexity to grape wines, it will also destroy the fruit characteristics.
As for aging, these are fun, easy-drinking blends. Drink them right away. A grape/fruit blend also isn't fine Bordeaux, so don't hold onto them for too long. Enjoy them during the first three years.